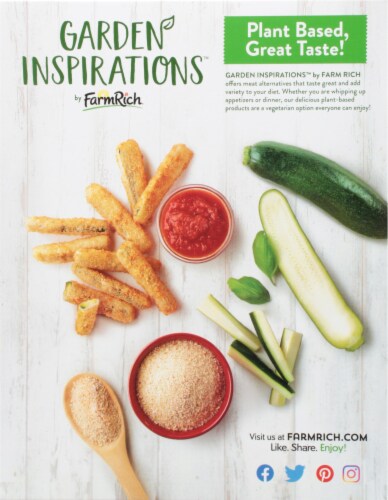 Farm Rich Zucchini Sticks image source: www.kingsoopers.com
Farm Rich Zucchini Sticks
From the frozen aisle of your favorite grocery store comes farm rich zucchini sticks. These breaded zucchini sticks make a delicious, economical, and healthy snack. The zucchini is coated in a seasoned bread crumb mixture, and then pan fried or baked for a crunchy, golden-brown texture. They're perfect for dips, make an excellent addition to sandwiches, or can be enjoyed on their own. And, they are made with natural ingredients and free from artificial colors and flavors.
Farm Rich Zucchini Sticks Overview
Farm Rich Zucchini Sticks are a delicious, easy to make, and nutritious snack option. This frozen breaded zucchini has a crispy, golden-brown coating that is made with a seasoned combination of bread crumbs and herbs. Plus, these zucchini sticks are made with natural ingredients and free from artificial colors, flavors, and preservatives. Zucchini sticks are a fun and versatile addition to sandwiches, salads, and appetizer plates. They deliver big flavor with minimal effort and can quickly liven up any meal. Serve them with a dollop of your favorite sauce for an extra burst of flavor.
These grab-and-go zucchini sticks offer a convenient and delicious way to increase your daily veggie intake. There are no artificial colors or flavors to worry about, plus they are highly customizable—use them as the foundation of a creative meal or snack. The possibilities are endless! You can add them to wraps or sandwiches, layer them on top of salads, stir-fry them with other vegetables, or simply eat them as-is.
Farm Rich Zucchini Sticks are so easy to make. They can be pan-fried in oil or baked in an oven for a more health-conscious option. Either method yields a delicious, crunchy texture. Plus, the cooking time is minimal—just a few minutes for a quick, delectable treat. This recipe yields 8 servings and takes just 5 minutes of cooking time.
Ingredients
2 large zucchini, cut into sticks
1 cup of seasoned breadcrumbs
1/2 cup of grated Parmesan cheese
1 teaspoon of Italian herbs
1 large egg, lightly beaten
2 tablespoons of olive oil
Salt and pepper to taste
Instructions
Preheat the oven to 375 degrees F.
Cut the zucchini into sticks and season with salt and pepper.
In a shallow dish, combine the bread crumbs, Parmesan cheese, and Italian herbs.
In a separate dish, beat the egg.
Dip the zucchini sticks into the egg and then coat them in the bread crumb mixture.
Place the zucchini sticks on a lined baking sheet and bake for 15 to 20 minutes, flipping halfway, until golden brown.
Serve warm with your favorite dip.
Nutritional Information
Calories: 110
Carbohydrates: 8g
Fat: 6g
Protein: 6g
Sodium: 170mg
Fiber: 1g
Cooking Time & Servings
The dish yields 8 servings and takes just 5 minutes of cooking time.
Equipment
Baking Sheets
Shallow dish
Egg Beaten
Serving Suggestions
These farm rich zucchini sticks are great served with your favorite dips. For a light meal, top a bed of leafy greens with the zucchini sticks and add a sprinkle of extra cheese for a delicious burst of flavor. Serve as an appetizer to guests or pair them with a side of roasted vegetables.
Variation Ideas
Add some extra flavor to your farm rich zucchini sticks with fun mix-ins. Consider a pinch of garlic powder, your favorite herbs, or interesting spices like sumac or sesame seeds. For a dairy-free feast, skip the Parmesan cheese and add a tablespoon of nutritional yeast. If you're looking for a sweeter option, try adding just a touch of sugar to the bread crumb mixture.
Substitutions
These zucchini sticks are versatile and can easily be adapted to accommodate dietary preferences and restrictions. Substitute the breadcrumbs for almond flour or crushed nuts for a gluten-free, low-carb option. For vegan dieters, use an egg replacer or a flax egg. You can also choose to omit the Parmesan cheese for a dairy-free snack.
Storage
Store leftover farm rich zucchini sticks in an airtight container and keep in the fridge for up to 5 days. Or, store in the freezer for up to 2 months. Reheat in a 375F oven or air fryer for a few minutes until golden brown.
Tips
Make sure to preheat your oven, this will help ensure that the zucchini sticks turn out perfectly crisp.
Use a pair of kitchen shears to quickly and easily cut the zucchini into sticks.
Feel free to play around with the herbs and spices by adding your favorite seasonings to the breadcrumb mixture.
Fill a mini muffin tin with the mixture before baking for teeny-tiny bite-sized zucchini bites.
Notes
These farm rich zucchini sticks also make a great appetizer for a party. Prep the ingredients in advance and store in the fridge, bake immediately before serving.
Mix-ins like olives, sun-dried tomatoes, or bell peppers can be added for an extra boost of flavor and color.
For added heat, mix in some chili flakes or a teaspoon of your favorite hot sauce.
Top with grated Parmesan cheese for a rich and cheesy treat.
Frequently Asked Questions
Q: Can the zucchini sticks be reheated?
A: Yes, the zucchini sticks can be reheated in either an oven or an air fryer until golden brown and crispy.
Q: What are some other dip ideas for zucchini sticks?
A: Try serving your zucchini sticks with tzatziki, an herbed mayonnaise, or a cooked, blended vegetable puree.
Q: Are zucchini sticks healthy?
A: Yes, zucchini sticks are a low-calorie, high-fiber snack option. Plus, the zucchini is rich in antioxidants, vitamins, and minerals.
Q: How long will the zucchini sticks stay fresh?
A: Leftovers will stay fresh for up to 5 days when stored in an airtight container in the refrigerator. They can also be stored in the freezer for up to 2 months.
Category
Snack, Appetizer, Low Carb, Vegetarian, Gluten-Free, Vegan, Dairy-Free. Suitable for any season.
Personal Thoughts
Farm Rich Zucchini Sticks are an easy and delicious snack or appetizer. They are quick to prepare and require minimal ingredients—making them a great choice for busy weeks. The zucchini delivers a crunchy, golden-brown texture and a flavorful burst of herbs and cheese. Plus, they are highly customizable and can easily be adapted to accommodate dietary restrictions. Whether you're looking for a healthy snack or a flavorful appetizer, farm rich zucchini sticks are an ideal option.
Encourage your readers to try the recipe and explore their creativity! Mix-ins, seasonings, and variations are all great ways to add unique flavors and textures. For more health conscious snacks, you can easily make this recipe low carb, gluten-free, vegan, or dairy-free. The possibilities are endless!
Thank you for taking the time to read about this simple and delicious farm rich zucchini sticks recipe. We hope you enjoyed learning about its flavor, versatility, and health benefits. We'd love to hear about your experiences, feedback, and suggestions. Happy cooking (and eating)!
"Cooking is love made visible." ― Alice Waters

― Brain Pickings
The pleasure of the table belongs to all of humanity.